You are here > Home > New York State > Keuka Lake Outlet Trail
Reported: May 2017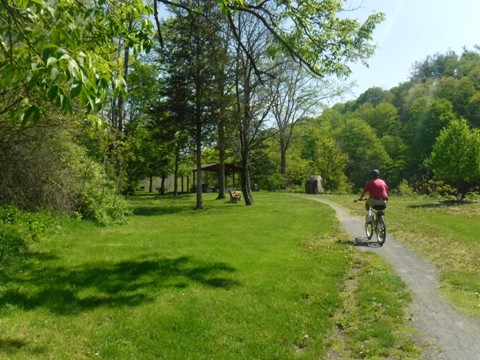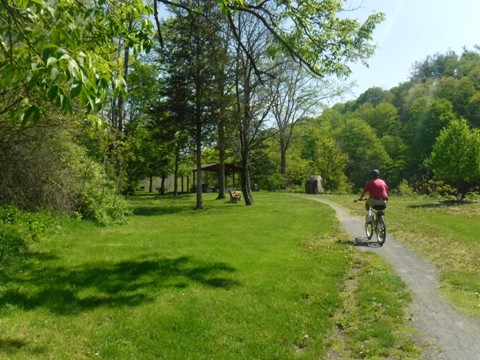 Keuka Lake Outlet Trail... New York State Biking
In New York's Finger Lakes region, this well-maintained 7-mile trail is popular with hikers and bikers. The trail follows the stream (the "outlet") that connects Keuka Lake (at Penn Yan) and Seneca Lake (at Dresden). The ride is mostly wooded and serene, with scenic waterfalls. There are picnic tables and benches at both ends and along the way, plus several parking/access points. No really bad road crossings, but do be watchful particularly at Ridge Road.
Keuka Lake Outlet has an interesting history

, having been a link in the inland water route across New York State and power source for many mills. The trail is on an old railroad bed (which previously was a towpath) that runs between the natural stream and the remnants of the Crooked Lake Canal built in the 1830's. The remains of some of the 40 mills, 12 dams and locks can be seen along the trail.
---
---
Biking on the Keuka Lake Outlet Trail
The trail is mostly downhill from Penn Yan to Dresden, with a mild incline. An easy ride with just a few steeper sections, though we flat-land Floridians found the return trip a bit wearing (starting from Dresden and biking uphill, then coasting back is an option). Scenic stream views, waterfalls and interesting historical stops along the way.
Trail end at Penn Yan,
leaving Elm Street
Trail under
Main Street - paved
Along the trail - crushed stone
Picnic pavilion at Seneca Mills - site of the first sawmill, 1789
Seneca Mills Falls
Picnic area
off the trail
One of several parking areas along the trail
Old manufacturing complex, waterfall at former lock
Along the trail - single track dirt
Trail end at Dresden approacing Seneca Street
Related Links:
Friends of the Outlet - Keuka Lake Outlet Trail